Just attended my last two conferences for this year: OMX and SEOkomm in Salzburg, Austria. I have been at SEOkomm numerous times, but this year's OMX was my first and it was amazing. All together I had two very interesting and inspiring days and it would be too much to go into great detail since there were just too many great sessions, countless pleasant conversations and  two wonderful evening events. This recap simply sums up some of my favorite impressions.
OMX – A conference for everything online marketing
I did not quite know what to expect from the OMX conference. I live and breath SEO and it is probably one of my favorite topics. So going to OMX was more an addition to attending SEOkomm, but wow, it was well worth it.
Robert Seeger's morning sermon
The conference started out with Robert Seeger's keynote Mehr Normalität & Autorität im Online Marketing – eine Morgen-Predigt (More normality & authority in online marketing – a morning sermon). And a morning sermon it really was. I was instantly wide awake and do not remember the last time I was this fascinated by anyone's talk. If you ever get a chance to see Robert Seeger on stage – Take it!
My takeaways from Robert's session:
If you have a big butt and the right attitude you can make crazy amounts of money on vine and instagram
We will probably all get to a point where we are simply to old to stay on top of internet trends (Yes, I also had to ask my colleague to explain Snapchat to me. 🙂 )
Normality is just a matter of time and place and not at all universally valid
You can buy pretty much anything. Except attention. You can only earn attention.
Ready for #OMXat pic.twitter.com/rh3txZDUKQ

— Bob Seeger (@fmxworld) November 19, 2015
AdWords, Facebook, Wearables…
Another engaging fact about OMX is the great variety of topics. The agenda was packed with sessions about AdWords, Facebook, Twitter, Wearables, Email Marketing, Storytelling and Conversion Optimization. If you work in a very specific field of online marketing it is always most inspriring to hear and learn about as well as discuss other topics. And for this OMX is the perfect platform. The conference day ended surprisingly fast. But even after the sessions it was not quite over yet. There was still the OMX-After-Party/SEOkomm Warm-up-Party to be had. It took place at Fuxn, a nice restaurant with amazing food and drinks.
SEOkomm – As awesome as ever
This is definitely one of my favorite conferences. And this one was maybe even the best SEOkomm so far.  
Marcus Tandler – Another impressive keynote
Friday came and just as he did the previous years, Marcus Tandler opened the conference with another slidestorm keynote: 404 – Keynote not found. 423 Slides in 45 minutes!
Same procedure as every year @mediadonis eröffnet mit der Keynote die #SEOkomm #slidestorm pic.twitter.com/1BYFkY4ph1 — Heiko Hoehn (@Steinhude) November 20, 2015
His session was a brain-teaser about Google, artificial intelligence, voice command, wearables and all things scary or non-scary (depending on what side you are on). An outlook on the future of marketing and tech and its meaning for SEO. In the end it all comes down to simply making users happy:
Optimize your content
Optimize for page speed
Always provide a great user experience
Avoid error pages and broken links
Get rid of unnecessary content
No excuses!
Crawling, Indexing, Page Speed…
The whole day was filled with so many amazing sessions that it is hard to pick the best ones. The concept of offering attendees three different tracks: Hardcore, Strategy and Beginner, was really convenient and got rid off the common guessing of what session to pick next.
My personal favorite was Screaming Frog Tricks, die du noch nicht kanntest by Mario Träger, partner at webworks – Marketing for Online Shops. His session was not just very informative for all screaming frog users, but also immensely entertaining.
If you are keen, his slides (in German) are online on SlideShare: Mario Träger – Screaming Frog Tricks.
My learnings from Mario's session:
Even if you think you know it all – You don't. There is always more to learn 🙂
Screaming Frog and Google Cache work quite well together
Content Analysis can be taken quite far with Screaming Frog
Make better use of the tools you already have
Also in some cases: "The problem really isn't that big, your sitemap just sucks!"
Local SEO for Beginners – My first session at SEOkomm
This year was also my first year of speaking at SEOkomm, which I very much enjoyed. Despite having John Mueller on stage at the same time I had a surprising large number of people attending my session. Thanks! 🙂 You can also find my slides (in German) on SlideShare:
Another great days goes by
Another one of my highlights was the after party at the amazing Kavalierhaus. A truly stunning location for a perfect evening. You can find pictures of the venue, of both conferences and both evening events at Salzburg Cityguide:
Any more highlights? – Yes, absolutely
Besides the awesome sessions and the great food – There was internet! For free! For everyone! And it worked! Even with 850 devices connected. Absolutely insane. Thanks to the guys from WIFI Rockstars. You guys truly rock!
I got to see and talk to some very cool and smart people again. (Alex <3). And met many more. Thanks for all the great conversations!
I met Sheldon Cooper, got to pet a dog (wohoo, Franz Josef) and held hands with Chewbacca. Seriously, what else could I possibly ask for? Oh, and I received an Oscar. See, that's it. A perfect conference all together. 🙂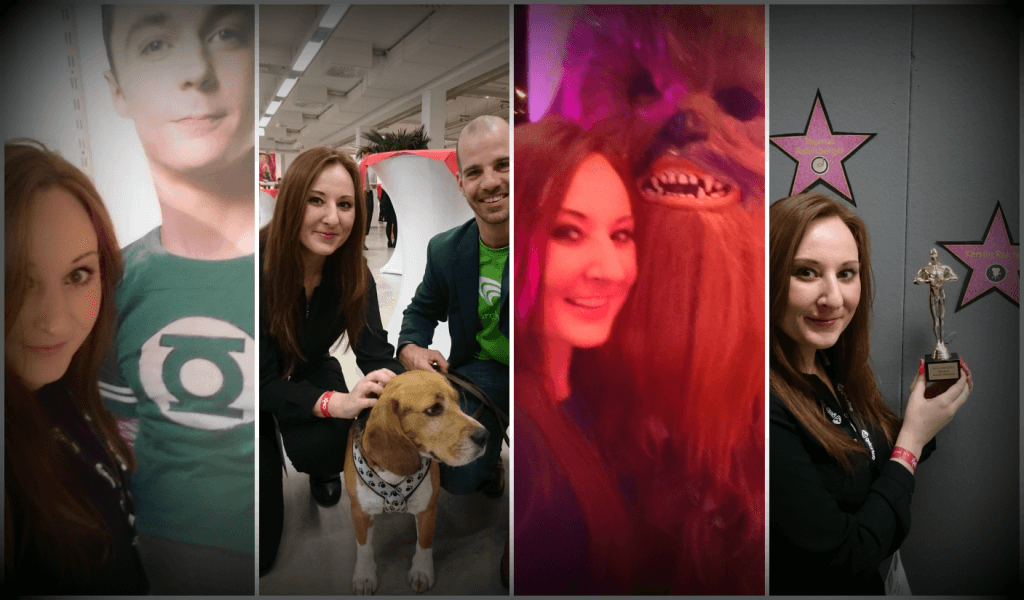 A huge thank you to Oliver and Uschi Hauser for putting together two such great conferences and evening events. Your heart and passion for it did not go unnoticed. Thanks a lot to the whole organization team and everyone who made both days very special!
For everyone interested in OMX and SEOkomm, here are the dates for 2016:
OMX: 17.11.2016
SEOkomm: 18.11.2016
And if you still have not had enough, here are some more recaps: